Sorry Batman, Spiderman, Thor, and Captain America but where the hell is my Wonder Woman movie?!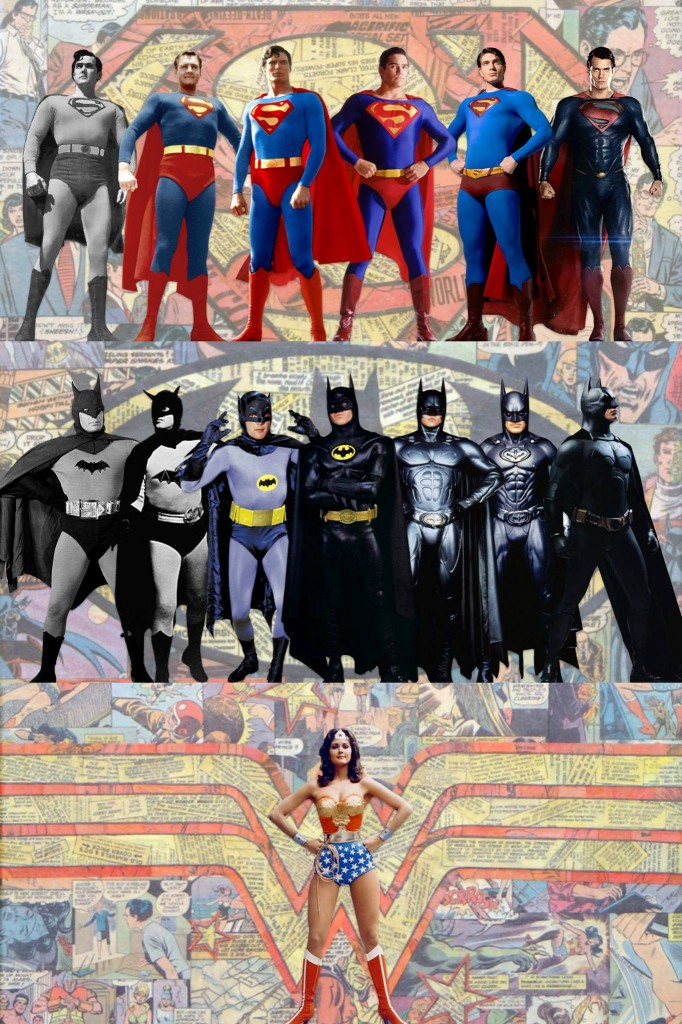 The only female warriors we've been presented with on screen in recent times possess a traditional male version of power. It's all kick-boxing, weapons, sensible black pants, hair-tied back and hangin' with the boys. Think The Hunger Game's Katniss, The Divergent's "Tris", Captain America's ally The Black Widow…
Not that there's anything wrong with girls who display more traditionally male types of power or chose to present themselves in a more traditionally male manner, and as these franchises have done terrific business we are obviously craving something beyond the damsels in distress that have long dominated our screens (after all, how many times can one watch a charming Vamp rescue a Bella?). But nor is there anything necessarily wrong with power that presents itself in other more traditional feminine ways – as the long-haired, female-loving, all-shiny, truth seeking, WW well knows.
And if films featuring female heroines are rating through the roof, then why aren't we bringing to the screen a role model that will show there are many ways to be a girl – and many ways to be a powerful person? Even Joss Whedon (famous for creating Buffy and, more recently, writing and directing the Avengers) wrote a script for a movie and the studio canned it. Incidentally, Whedon was once asked why he wrote so many strong female characters to which he replied, "Because you're still asking me that question".
WW also has huge widespread appeal; I'm certainly not the only woman to have a major girl-crush on this kick-butt princess who is really the alter ego of Princess Diana of the Amazons, a nation of women warriors in Greek mythology.
Why is it that so many of us devotees to this woman who is said to boast the wisdom of Athena and the beauty of Aphrodite?
Well not only does she rock some amazing star-spangled knickers and to-die for red boots, but she fights crime using possibly one of the coolest super-tools ever, the Golden Lasso of Truth, which compels baddies to speak honestly to her. In the early days of the comics, though, the lasso's power was broader than that: if Wonder Woman caught you in her lasso, you had to obey all her commands. The writer who created Wonder Woman back in the 1940s, psychologist William Marston, said the lasso was a symbol of 'female charm, allure, oomph, attraction' and the power that 'every woman has … over people of both sexes whom she wishes to influence or control in any way'.
When it came to creating a weapon to put in his super-heroine's hand, he didn't just adapt one of the many traditional masculine examples he could have chosen from. Instead, being a man interested in the power of the mind, he recognized the power of femininity and turned it into a weapon itself. Bam! No wonder Ms Magazine made her their first cover girl in their inaugural issue that boasted the headline, "Wonder Woman For President."
It is the combination of femininity and power that makes WW particularly swoon-worthy – and unique.
The studios may fear that despite the success of the futuristic warrior-girl films we may not yet be ready for a female super-heroine. After all, Catwoman and Elektra were major flops. But perhaps the need for WW goes beyond the need to make money? Certainly the co-star of Captain America, Anthony Mackie, thinks so. In a recent interview he expressed why he thinks it is so important that girls should also feel represented: "There should be a Wonder Woman movie. I don't care if they make 20 bucks, if there's a movie you're gonna lose money on, make it Wonder Woman… There's so many of these little people out here doing awful things for money in the world of being famous. And little girls see that. They should have the opposite spectrum of that to look up to."
So here's my question to you Hollywood… if you can fund God-awful films like The Hangover III, and Movie 43, and if we can have five Spiderman films in the past decade, and six Batman films since the '90's, then why can't we offer little girls at least one film featuring the ultimate girls-can-be-anything-and-everything Princess who fights for justice, love, peace and sexual equality?
Because want to know the golden-lasso-style truth?
We need her.
And so do you.